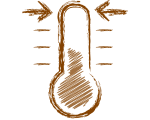 Communities across Kenya and East Africa are currently facing the devastating impacts of a severe and prolonged drought. Millions are at risk of food insecurity. Successive seasons of below average rainfall and crop production have left people's reserves of food exhausted and the price of basic staples at an all-time high.
Our free school lunch programme is providing vital relief to more than 2,700 children across our partner schools and beyond. But the future of this programme is at risk because of the sharply increasing cost of beans, rice and maize – the staples of our feeding programme. The price of these items has risen by up to 30% in just the last couple of months. Our budgets and limited resources are being stretched to breaking point.
Without additional funding, we face the prospect of having to scale back the programme just at the very moment it is needed most. For many children, our lunch is currently their only guaranteed meal of the day. In fact, many eat only half of their lunch and carry the rest home with them so that they do not go to sleep on an empty stomach. It is a lifeline that they can ill-afford to lose.
Whilst we cannot make it rain, with your support we can ensure that every child in our partner schools is receiving at least one meal a day at a time when it is becoming increasingly hard for families to put food on the table.
£18

provides one pupil with a daily term-time lunch for a whole year
£60

buys a 90kg sack of beans, enough for around 2,250 servings
£250

funds delivery of our lunch programme for 2,700 children for one day
Can I donate offline?

Of course! We understand that not everybody is able to donate online. We would be happy to receive donations by cheque, made payable to 'African Promise' and sent to 97a Stormont Road, London, SW11 5EJ. Please write 'drought appeal' on the reverse of your cheque so we know it is intended for this appeal. Please do not send cash.
How will you spend my donation?

Funds raised from this appeal will go towards the cost of delivering our feeding programme, which you can read more about here. We will retain 10% of the total proceeds of the appeal to cover costs associated with management of the charity and our programmes including staff salaries.
How are you mitigating for future food price increases?
Unfortunately there is little we can do to protect ourselves and our budgets from continued increases in the price of food. We can only purchase it up to one month in advance of when it is needed due to the perishable nature of the food. Ultimately we, like ordinary consumers, are at the mercy of the laws of supply and demand. We factor small increases in food prices into our budgets but nothing like those which we are currently experiencing. The prices of beans, for example, has risen by 30% since the end of last year.
CLICK HERE TO DONATE