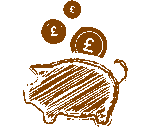 We're always on the look out for people and groups who can help raise vital funds for our work.
Whether you are an individual looking for a good cause to support through a sponsored event, or a school seeking to support others less fortunate, or even a community group then we'd be delighted to hear from you.

Let us know
If you are organising your own fundraising event, at home or at work, then please let us know so that we can provide you with as much support as we can to make your fundraising a success.

Setup a fundraising page
A personalised fundraising page is a great way for you to collect donations and sponsorship from your friends and family. We work with JustGiving and you can set up a page at no cost in just a few easy steps.
Order fundraising materials
We have a range of materials which we can send you at no cost to help with your fundraising. We can also provide you with a branded and personalised cycling jersey or running top.
When Agnes Dexter, 8, decided she wanted to raise money for charity she searched the Internet for an 'African charity'. She found our website and chose to support us because she wanted to help other children have what she has: a good primary education. Together with her best friend Amelia she organised a day of Halloween-themed activities, games and treats at home for family and friends, and raised nearly £250.
"It was very fun doing the fundraiser. I hope this money will help children in Kenya to get a good education."
Raise funds when you shop online

With easyfundraising, whenever you shop online at hundreds of popular retailers a percentage of your purchase will be donated to us at no extra cost to you!
REGISTER HERE
eBay for charity
Information coming soon.
We can supply you with A4 posters, leaflets and collection 'tins'. If available we can also supply you with copies of our most recent Annual Report. If you have a major fundraising event planned we can also lend you our roller banners to help brand your event.
We are a very small team and other than in exceptional circumstances we are afraid that no representative from the charity will be able to attend your event in person.
If you have collected cash then please pay us the funds as an online donation or by cheque payable to 'African Promise'. We kindly request that you do not send us the cash! If you donate the funds online please email us to let us know you have done this so we can identify the source of the funds.
We are currently a member charity of JustGiving and, solely to meet the conditions of us being awarded a place in the 2016 London Marathon, VirginMoneyGiving (VMG). However we strongly recommend setting up your fundraising page with JustGiving. Although they charge us a membership fee of £18 per month and a 5% fee on all donations made to fundraising pages (while VMG and some other providers are free for charities to use and charge a lower fee on donations) we believe that the service and product that JustGiving provides to both us and you (as fundraisers and donors) is vastly superior and offers much better value for money. If you have any questions please do not hesitate to get in touch.