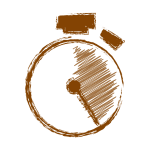 African Promise was established in 2008 by our then 24-year-old Director Charles Coldman.
In 2003 Charles had spent four months volunteering with Africa & Asia Venture, living and working in the region where we work. Charles's time and experience in the villages opened his eyes to a totally new world to the one in which he had been fortunate to grow up and he became incredibly attached to the community and its warm, generous and welcoming spirit. At the end of his time in Kasigau Charles made a promise to the headteacher of Jora Primary: that he would return to help rebuild the school. It was a promise he kept and in 2006 he spent six months living in Jora overseeing the redevelopment of the school, including the construction of a purpose built library – at the time, one of very few in public primary schools in Kenya.
Seeing so many children's lives and futures improved by one project made Charles look to other schools in the wider community; the same need was there too and it was clear to him that he had found a direct and effective way of having a lasting impact on hundreds of children.
So, in 2008, a single promise to one school became one to many more; and African Promise was born.
Timeline of key dates
Oct 2006 to May 2007 – 'pilot' project as ProjectMakeARealDifference in first partner school
January 2008 – African Promise registered as a charity with the UK Charity Commission
September 2008 – work begins in an initial five partner schools
April 2013 – first teacher salaries funded
September 2013 – feeding programme launched in single school
June 2015 – work extended to a seventh partner school
January 2016 – charity celebrates £1 million raised