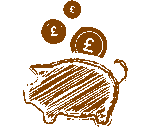 Help raise vital funds to the transform the lives and education of thousands of disadvantaged children in a rural corner of Kenya.
Whether you are an individual looking for a good cause to raise funds for through a sponsored or organised event, a school or company looking for a partner charity, or even a local community group with funds to donate then we'd be delighted to have your support.
Fundraise at home
You don't have to run a marathon or climb a mountain; you can also raise funds by organising your own event (such as a dinner or quiz night), asking for donations in lieu of gifts for a birthday or anniversary, or even when you shop online.
Fundraise at work
Raise funds at work by holding a fundraising event in the office. These are also a good way to raise awareness of our charity among your colleagues. Ask if your employer will match any money you raise.
Fundraise at school
Help support schools and children less fortunate by getting your own school and pupils involved in fundraising. Use it as an educational opportunity by relating lessons about 'Africa' or the Sustainable Development Goals to a real-world scenario.
Raise funds for free when you shop online
You can turn your everyday online shopping at Amazon and thousands of popular retailers into free donations for African Promise at no extra cost to you simply by starting your shopping session at easyfundraising or via AmazonSmile.
Amazon Smile
If you must shop using Amazon(!) then at least do so knowing that some of the value of your purchase will be donated to charity. Shop through AmazonSmile and 0.5% of what you spend will be donated to the cause of your choice. Just log in to AmazonSmile using your normal Amazon log-in details and select 'African Promise' as your chosen charity.
REGISTER WITH AMAZON SMILE
easyfundraising
You can turn your everyday online shopping into free donations for African Promise using easyfundraising. Start your online shopping at easyfundaising, find the retailer, then shop as normal. Upon completion of your purchase, a small percentage will be donated to African Promise at no extra cost to you!
REGISTER WITH EASYFUNDRAISING
Set up a Birthday Fundraiser on Facebook
If you use Facebook, then shortly before your birthday you will be invited to set up a Birthday Fundraiser to collect donations from family and friends for a cause of your choice to celebrate your special day. You are able to select African Promise as your chosen charity.
When invited to by Facebook, create a Birthday Fundraiser and select us as your chosen charity by searching 'African Promise'. Alternatively, go to facebook.com/fundraisers and start the process from there.
Personalise your page by choosing a target, giving it a title (by default it will be 'Your name's birthday fundraiser for name of charity') and writing some words about why you are raising funds for African Promise.
Once you have created your Birthday Fundraiser it will automatically be shared to your News Feed but you can also invite friends and copy your fundraiser link to share via email and on other social media channels.
You will receive a notification once someone has donated to your fundraiser. We would recommend thanking them promptly which you can do privately or publicly.
Organise an event
We're grateful for anybody who can support the charity by hosting their own fundraising event. In the past, supporters have organised events including tennis tournaments and bridge mornings but the possibilities are endless: from a simple coffee morning or dinner party, to a quiz night or sports/games event, right up to a gala dinner or other ticketed occasion! Let us know what you have in mind or are planning and we'll give you as much support as we realistically can!
Take on a challenge
Set yourself a challenge and ask family, friends and work colleagues for donations in support of your efforts. It could be taking part in an organised running, cycling or swimming challenge event such as the Royal Parks Half, Ride London or Swim Serpentine. Or something else such as Tough Mudder or a skydive. It could even be your own bespoke, personal challenge.
Shop with Artisans & Adventurers
Our partners Artisans & Adventurers are donating 2% of sales on their Kenya collection of crafts, jewellery and homeware, including woven sisal baskets handmade by women in the communities and villages where our schools are located. Use the offer code AFRICANPROMISE at checkout to get 10% off your purchases.
Need some inspiration? Here are a few things that other individuals, schools and companies have done over the years…

Help with your fundraising
The FAQ's section below contains useful information on how to start your fundraising but please do not hesitate to get in touch if you have any further questions or need any help – in any case, we'd love to hear about your fundraising plans or discuss your ideas so we can help make your fundraising as successful as possible!