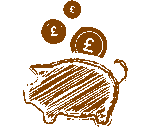 Help raise vital funds to the transform the lives and education of thousands of disadvantaged children in a rural corner of Kenya.
Whether you are an individual looking for a good cause to raise funds for through a sponsored or organised event, a school or company looking for a partner charity, or even a local community group with funds to donate then we'd be delighted to have your support.
Fundraise at home
You don't have to run a marathon or climb a mountain; you can also raise funds by organising your own event (such as a dinner or quiz night), asking for donations in lieu of gifts for a birthday or anniversary, or even when you shop online.
Fundraise at work
Help raise funds at work by holding a fundraising event in the office (such as a bake sale). These are also a good way to raise awareness of our charity among your colleagues. Ask if your employer will match any money you raise.
Fundraise at school
Help support schools and children less fortunate by getting your own school and pupils involved in fundraising. Hold a traditional non-uniform or fancy dress day in exchange for donations.
Not sure what you could do to raise funds? Here are a few things that other individuals, schools and companies have done over the years…

Start your fundraising
The FAQ's section below contains useful information on how to start your fundraising but please do not hesitate to get in touch if you have any further questions or need any help – in any case, we'd love to hear about your fundraising plans or discuss your ideas so we can help make your fundraising as successful as possible!