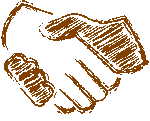 Partnering with African Promise will bring many benefits to your company whilst simultaneously helping to bring about lasting change in our partner schools.
Supporting our work provides a great opportunity for companies and businesses to raise their profile and strengthen their brand, increase employee engagement and improve relations with staff, and contribute to something which really can change lives for the better.
How we could work together
There are a variety of ways in which companies can partner with African Promise including through charitable donations to support our broad range of projects and programmes, employee fundraising activities and cause-related marketing. However, we recognise that each partnership is unique and we work closely with each of our partners to develop tailor-made programmes.
Skills-based support

Help us by providing your company's services and the skills of your staff on a pro-bono basis. We are currently looking for support developing our brand and with digital marketing, including Facebook advertising and GoogleAds.
Company fundraising & giving

Choose us as your nominated cause or Charity of the Year and engage your staff in raising funds for us. Or donate to us directly as part of your CSR programme.
Event sponsorship
Raise the profile of your company or business, and help us raise more funds, by providing financial or in-kind sponsorship for one of our public fundraising events (such as our popular Christmas Carol Service, our Golf Day or for raffles/prize draws).
Host a donation terminal
If you are a business with a public footfall and a point-of-sale counter (such as a retail outlet or café) you could host a contactless donation terminal to collect donations for us from your customers. Apart from the cost of power for the terminal, this will not cost you anything!
Cause-related marketing
Partner with us for the mutual benefit of your business and our charity by donating a percentage of your profits or sales and using our name and logo on your product(s). You can set this up directly with us or through our partners at Work for Good.
Support employee giving
Match funds that staff raise for us through their own independent fundraising efforts (by participating in a challenge event, for example) or help them to donate to us directly from their salary through a Payroll Giving scheme.
An example of our work with existing corporate partners…
Aspect Capital initially identified us through an internet search for small charities working with schools in Africa. Over the last 10 years they have become our main supporter, having provided funding in excess of £250,000. The company has supported a range of projects and programmes, including a major redevelopment of Kisimenyi Primary as well as our feeding programme, but more recently they have helped to fund our core costs with vital unrestricted funding. In September 2017, staff at the company voted us as their Charity of the Year and subsequently raised more than £20,000 on their fundraising day, every penny of which was matched by the company.

Read more about this partnership on the Aspect Capital website
Interested in partnering with us?
To discuss how your company or organisation could get involved with supporting our work please get in touch with us at hello@africanpromise.org.uk or on +44(0)20 7193 2137
We'd like to thank the following companies and business for their support over the last 10 years.
for providing financial support and hosting supporter receptions
for pro-bono support in the building of this website
for pro-bono support creating artists impressions and drawings
for pro-bono support examining our Annual Accounts
Hampden Capital | AON | C J Hortons Ltd | Great Northern Hotel | Artisans & Adventurers | Element Law | Chiddingstone Castle | Ebury | G & A Planning Ltd | City Forex Ltd | PwC | Webmart UK | Kenyan Crafts Company | Flourish Craft Bakery | Mountjoy Kitchen | The Baguette Deli | Black Mountains Smokery | AV Trinity | Howe Maxted Group | Clarkson Wright & Jakes | Panoramic Wealth Management