A year on since schools in Kenya were forced to close their gates we are grateful that we end the first of four proposed terms in 2021 with schools still open for all children.
Class 8 pupils are this week sitting their national primary (KCPE) exams and we are wishing those pupils across our partner schools and beyond the very best of luck after this most challenging and disrupted of years.
We continue to do all we can to help our eight partner schools maintain as safe an environment as possible for both children, staff and visitors, and to get learning back on track.
Our investment in Covid prevention measures is now worth almost £14,000 including more than 100 free-standing, mobile hand-wash stations, hundreds of items of cleaning equipment and PPE (including digital thermometers), soap, hand-sanitiser and detergent, and a waste-incinerator for each school. Since January we have provided 50,000 litres of clean water to those schools which rely solely on rainwater and where these reserves have been exhausted. Other partners have provided face masks for all pupils as well as additional supplies of soap.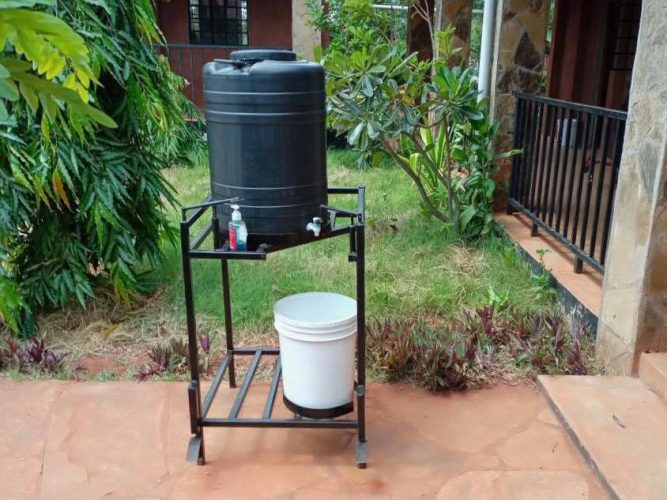 One of 106 free-standing hand-wash stations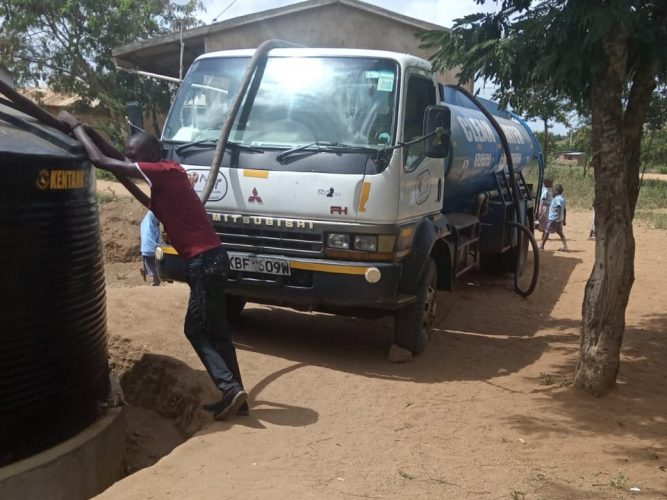 Filling a water tank with clean water
Since schools initially reopened in October we have once again been providing food for an in-school meal programme across all of our existing partner schools. Anecdotal evidence from headteachers suggests that the guarantee of a daily lunchtime meal has been a key factor in attendances returning to close to 100% very rapidly following resumption of in-school learning.
We have been able to maintain (and indeed increase) our financial support towards the payment of teacher and support staff salaries, funding these in full for November and December (after schools reopened) and at 75% currently (with contributions from parents making up the shortfall). We plan to reduce our contribution to 50% from April onwards but this will still be above pre-Covid levels and indeed we have taken the decision to extend this support package to our eighth partner school at Mkamenyi Primary. In total we are now contributing to the salaries of around 75 teachers and support staff including cooks and security guards. Ensuring schools are adequately staffed is going to be crucial to getting learning back on track.
The focus of our infrastructure programme remains on the redevelopment of Mkamenyi Primary where we are now appoximately halfway through the proposed works. However, where funds are available we continue to invest in the fabric of our other partner schools, building both new facilities and helping them to maintain and upgrade existing ones, particularly prioritising WASH (Water, Sanitation and Hygiene) facilities given the current circumstances.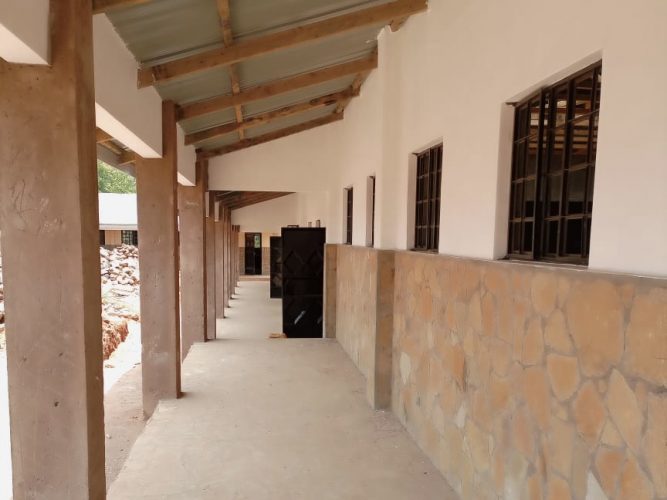 New classrooms at Mkamenyi Primary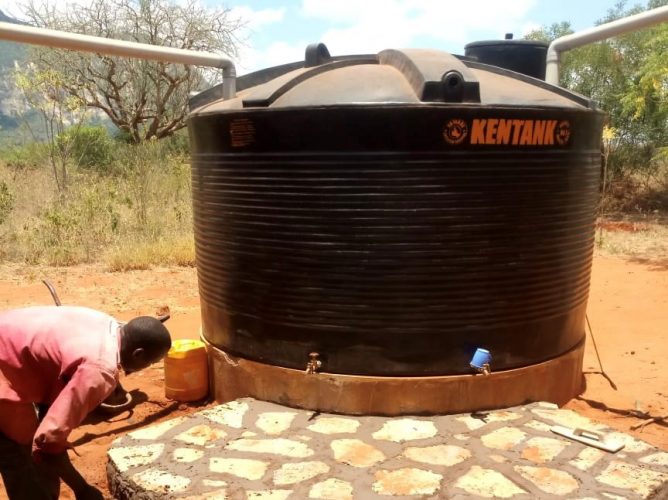 New water tank at Ngambenyi Primary

Whilst schools have not closed again thus far, with cases rising in Kenya and a vaccination programme only expected to reach 30% of the adult population by June 2023 (although they are prioritising key workers including teachers over the age of 50), there is clearly much that can change.
But whatever happens over the weeks and months to come we will continue to stand with our partner schools, their staff and their pupils when they need us most.