Today we welcome Jenny Harkin to the African Promise family as an official charity ambassador, joining her husband David who we appointed to the same role in October last year.
Jenny, together with David, is co-founder of the award-winning educational social enterprise 7billionideas and is currently their Chief Innovation Officer and 'Director of Happiness', working with students and employees to help unlock their entrepreneurial DNA.
In between work, running a small crafts business and being Mum to two young boys, Jenny still finds time to raise funds for the charity and having taken part in the Hampton Court Half Marathon earlier this year is currently running a combined 1000km in 100 days with David as a means of putting their daily 'lockdown' exercise allowance to good use.
Speaking about what it means to become an ambassador, Jenny says: "African Promise is a charity close to my heart because of my own passion for education for all and also one I really admire, not only because of the dedication of Charles, but also knowing the money goes directly to those who need it. I am beyond thrilled to be asked to be an ambassador for such a fantastic cause and look forward to continuing my support in the future."
Both David and Jenny are passionate and committed supporters of the charity and we are delighted that together they will become our first family ambassadors.
"This means a lot to our family", says David of their appointment. "For the last 10 years we've done what we can for charities, but always really wanted to support one or two which are closely linked to our 'why'."
We are honoured that Jenny and David have found in African Promise a cause with which they have such affinity and we are excited to see where our partnership with this talented, energetic and innovative couple can take the charity in the years to come.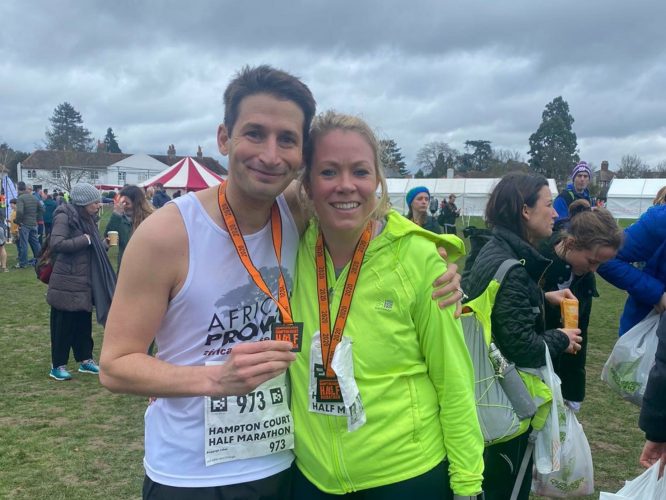 David and Jenny after the Hampton Court Half Marathon in March this year.